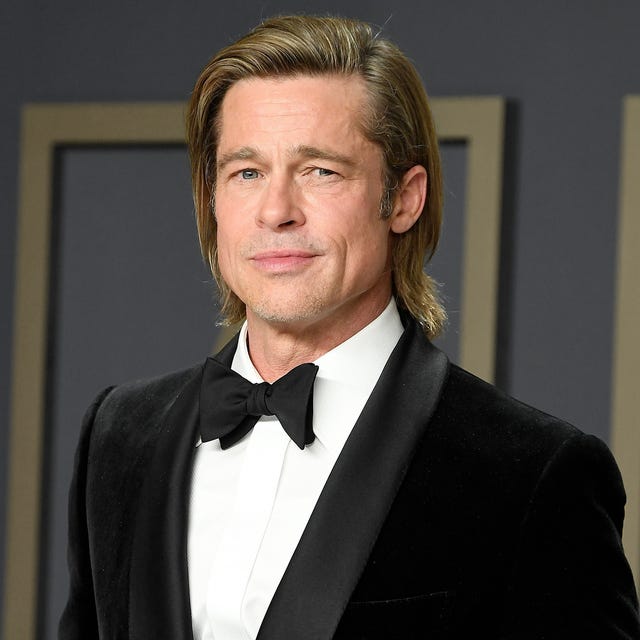 Getty Images
Sometimes, I think of other men's hair. I wouldn't say it's in a sexual way. Not in a jealous way either. I have gorgeous hair—hair that emerges and falls from my scalp like the plume of smoke coming off a Roman candle on the Fourth of July. That fact alone allows me to see the men around me and appreciate their follicle game. To see them for the beauties they are. There may be no better, more consistent role model than Brad Pitt, though. What I've come to respect about Brad Pitt over the years is that while the man is, indeed, an incredible actor, he also has a firm understanding that a chiseled face and a mane worthy of a lion god have cemented him as a Hollywood icon. You like him in Troy, but you loved the way his hair blew in the wind. Don't let fragile masculinity get in the way of hardened fact.
In this complex time where you may not have had a decent haircut in, say, three months, let's take time to honor and celebrate and uplift a man who has always had an established grip on haircare. (Well, at least until the Fight Club years; we all have our demons.) Let us exalt him, and the 30-plus years he has given us of excellent hair. Let us embark on this journey, together.
Advertisement – Continue Reading Below
1988: The Boy
Look at him! Fresh faced. Mother approved. That one dangly wisp in the front represents every guy who has ever been cooler than you, yet manages to still be likable. This is the laissez-faire hairstyle of teen boys everywhere.
1989: The Concerned Boy
Everything from above, but make him complex. This is one of the earliest signs that Brad Pitt and Brad Pitt's hair would have two separate, yet congruous careers.
1991: A Hand Runs Through it
Here, the boy is evolving into a man. The blonde hair has been chopped into something resembling a more uniform cut, but the face and demeanor maintain their youth. Fun fact: This is also the year that Brad Pitt hooked up with Geena Davis in a hotel before stealing her money!
1992: The Experiment
There is a point in every young man's life (perhaps you're going through it right now), when he just lets all the hair grow. This is what seems to be going on here, and it's a weird dichotomy between an older, masculine bottom half of the face and a bizarrely boyish long cut up top.
1993: Long Locks
It really is a shame that The OC wasn't filmed in the early '90s.
1994: The Pain of Cobain
With nary a bottle of conditioner in sight, this Interview with a Vampire situation is a real misstep. And, just being frank, you never want to hear the words "but your roots," but… his roots. Nevertheless, this…


Read More: Brad Pitt's Hair Through the Years