"I Can See Him Being President Down The Road"- WWE Hall Of Famer Makes A Huge
26 May 2015 - Hollywood, California - Dwayne Johnson. "San Andreas" Los Angeles Premiere held at the TCL Chinese Theatre. Photo Credit: Byron Purvis/AdMedia
In a recent interview, WWE legend Mark Henry expressed his opinion that Dwayne "The Rock" Johnson could stand for Presidency. He thinks that his close friend would do a great job in the post and could see it happening in the future.
"He gives off a presence when he walks in a room," says Henry "I hope in the future we get him as a public servant. I can see him being President down the road."
Dwayne Johnson has come a long way since his beginnings. Once at rock bottom (no pun intended), he climbed up and earned his way to the top. He is now one of the most popular Superstars in WWE, if not on the planet.
"I mean who better than somebody that embodies hard work and you will never see an embarrassing moment," explains Henry.
The Rock is known for his insane workout routines. Being the face of fitness around the world, many look up to him as an inspiration.
Henry claims that everyone knows who Johnson is and what he's done, and will thus know what to expect if he becomes President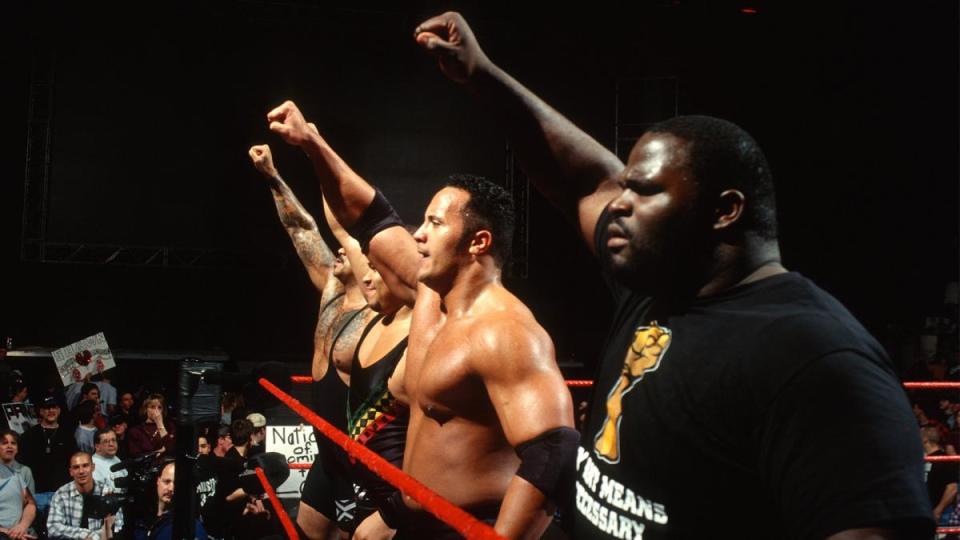 "It's kind of like LeBron James like you know, people always looking for the other shoe to drop," says Henry "There is no other shoe to drop, they're both on the floor they are who they are." 
Dwayne Johnson embodies the role of a President according to Mark Henry
Mark Henry explains how Johnson doesn't only work for himself but lifts up everyone around him. His entire aura is built up around that.
"You know I love the fact that people work hard and have success and they try to pull other people along and you have the interest in making somebody else look great, that you want somebody else to benefit like, that's a beautiful thing," says Henry.
Dwayne Johnson has taught his former roommate, Mark Henry, a lot of valuable lessons. He seems to have been influenced a lot by Johnson to praise him so highly.
Henry also talks about the sacrifice that Dwayne Johnson has gone through his entire life on a daily basis.
"Your sacrificing and I keep going back to the 'sacrificing yourself for others'. That's what we need to do. If we have that in mind, this world would be a better place," states Henry.
When asked whether he would be The Rock's Vice President, Henry jokingly says "Nah, I think I'll be there for comic relief."
Over the years, Dwayne Johnson has branched out from his work in wrestling. The number of projects that he is involved in is massive. The Rock running for Presidency, although a long shot, cannot be written off the cards just yet.


Read More: "I Can See Him Being President Down The Road"- WWE Hall Of Famer Makes A Huge