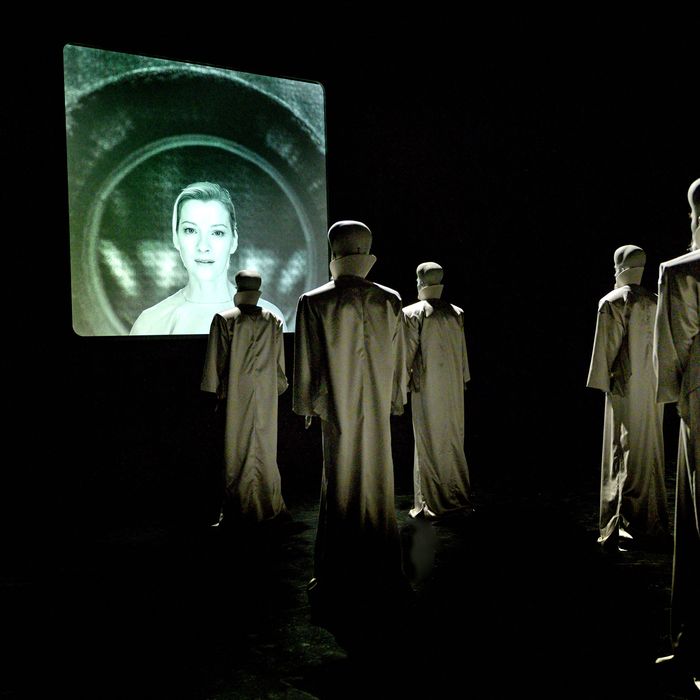 Gretchen Mol stars in 'You Might Also Like' alongside some familiar-looking interplanetary costars.
Photo: Dean Buscher/CBS
It's hard to live up to the memory of a TV series that crept into childhood dreams. Created by Rod Serling, the original incarnation of The Twilight Zone ran for five seasons between 1959 and 1964 and has lived on in reruns ever since. Its reputation is built both on its many classic episodes and the reverence of generations of viewers for whom its tight, twisty, alien- and supernatural phenomena-filled morality plays offered a first glimpse into a darker, richer storytelling world. That hasn't stopped others from trying, however, leading to several revivals in the years since Serling signed off for the last time. The latest, executive produced by Jordan Peele and now entering its second season on CBS All Access, has not only acknowledged the difficulty of reckoning with that legacy, it's made The Twilight Zone's past a part of its present.
Rather than running from the past, this new incarnation has put it in the spotlight. In a first season already loaded with Easter eggs nodding to the classic series, Peele's version paid homage to the original's "Nightmare at 20,000 Feet" via the quasi-remake "Nightmare at 30,000 Feet" and concluded with the ultra-meta "Blurryman," in which a Twilight Zone writer anxious about living up to the show's standards encounters a spectral version of Serling on the set of the series.
It's a risky approach, inviting unflattering comparisons should the new series fall short of its inspiration. (Case in point: the solid-but-less-than-classic "Nightmare at 30,000 Feet.") That hasn't stopped this new season from bringing back some familiar, if unmoving, faces for the standout "You Might Also Like": the Kanamits, the towering, telepathic alien visitors with a hidden agenda first seen in the 1962 episode "To Serve Man." (A memory refresher, and a spoiler warning for those who haven't seen the episode: "It's a cookbook!")
The episode's creator, writer-director Osgood Perkins — best known for writing and directing the well-received horror films The Blackcoat's Daughter, I Am the Pretty Thing That Lives in the House, and this year's Gretel and Hansel — is well aware he has to meet a high standard, thanks in part to his own childhood memories of the series. "I feel like my first strong impression of The Twilight Zone [came from it being] shown in the marathon form on holidays like Thanksgiving," Perkins says. "When you're a kid, there's that sweet spot period of time on Thanksgiving…


Read More: Why Twilight Zone Revived Kanamits for 'You Might Also Like'