Hollywood Rewind | Malcolm X: Denzel Washington is magnetic in the titular role
Written by
Anvita Singh
| New Delhi |

Updated: June 14, 2020 8:49:30 am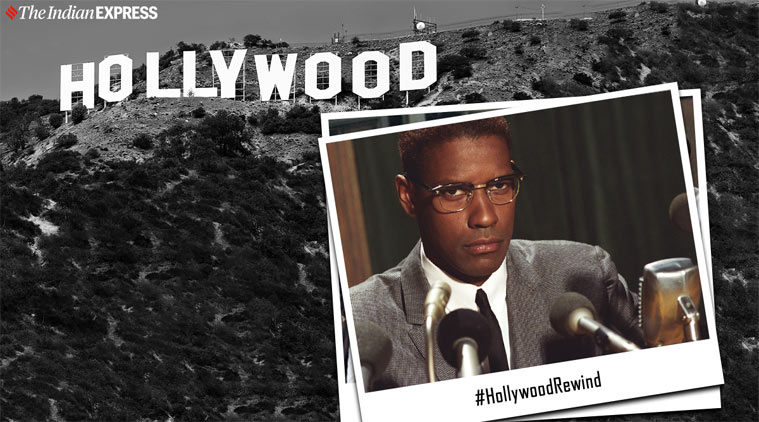 Directed by Spike Lee, Malcolm X released in 1992.
At a time when various movements are taking place against systemic racism in the US, Academy Award-winning writer and director Spike Lee has released a new film — Da 5 Bloods. The movie seeks to place African-Americans who fought for their country during the Vietnam War in the spotlight. Lee has famously addressed the issues that African-Americans face and have faced in the past during various interviews and, of course, through cinema (She's Gotta Have It, Jungle Fever, Do the Right Thing, Chi-Raq, and the more recent, BlacKkKlansman). So it doesn't come as a surprise that this man chose to make a biopic on the controversial African-American activist Malcolm X in the early 90s.
Released in 1992 and starring the immensely talented Denzel Washington in the titular role, Malcolm X as a piece of art has always been relevant. Be it in terms of storytelling, filmmaking or the issues that it concerned itself with. During this period of reckoning and high tension around the globe, it seems imperative to revisit this Spike Lee classic.
Staggering in its brilliance and the amount of time it takes to complete its full run (the movie is almost 3.5 hours long), Malcolm X is a satisfying watch that wants all of your attention. From Malcolm Little's (as he was earlier known) difficult childhood where he dealt in drugs and thievery to his prison sentence, the movie successfully shows us how Malcolm Little became Malcolm X. Malcolm was not always an activist, he did not have that luxury. He was moved from one foster home to the other, all of which told him in explicit terms that he was 'different' and someone not worthy of the love and respect a normal human being deserved. For instance, there is a scene where a very young Malcolm is told by his teacher not to harbour the desire of becoming a lawyer. When he questions his teacher and states defiantly that he has better grades than most in his class, the latter tells him that Malcolm would be better suited to the profession of carpentry as he is "good with his hands." The teacher also goes on to add that carpentry is a perfectly fine job for the coloured. Lee pieces together sequences like these to build Malcolm X's defence case, showing us that he was time and again tested for being Black. For his colour.
However, before the tension escalate, we see a younger, happier Malcolm, who just wants his hair straightened 'like a white man' in order to impress a few girls. It is at one of these dances that he meets a white woman called Sophia who he takes as a lover. But Spike Lee shows that even when they are together, Malcolm is not at ease. At one point in…


Read More: Hollywood Rewind | Malcolm X: Denzel Washington is magnetic in the titular role