Palm Springs, an original comedy movie released on Hulu, starring Andy Samberg and Cristin Milioti, has already called in comparisons to the 1993 Bill Murray hit, Groundhog Day. Like Murray's character in Groundhog Day, Andy Samberg plays a man (named Nyles) who is stuck in a time loop, forced to relive the same day over and over again. With so many different competing timelines between the characters in Palm Springs, how in the world did they keep the story consistent?
What is the movie 'Palm Springs' about, and who are the main characters?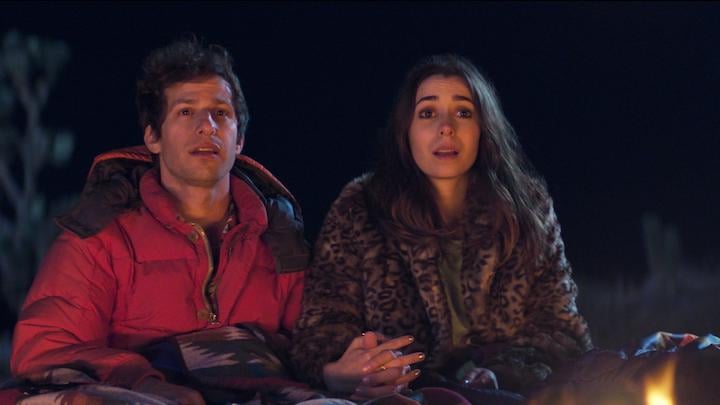 Early in the movie Palm Springs, Nyles floats in the pool and declares: "Today, tomorrow, yesterday. It's all the same." The Saturday Night Live alum, Andy Samberg, produced and starred in the romantic comedy alongside Cristin Milioti (known for her roles in How I Met Your Mother and Modern Love). Milioti's character, Sarah, is sister of the bride and maid of honor. Sarah, too, somewhat inexplicably ends up in the same endless time warp with Nyles.
"So, this is today, today is yesterday, and tomorrow is also today," Nyles tells Sarah dryly in Palm Springs. "It's one of those infinite time loop situations you may have heard about." Nyles and Sarah relive her sister's wedding day countless times during Palm Springs.
"The second you go to sleep, it all just goes back to the start," Nyles explains. With Sarah, the couple goes on adventures, dance, give each other tattoos, and engage in a bunch of other activities you'll have to see to believe.
How 'Palm Springs' cast members Andy Samberg and Cristin Milioti kept track of the details and kept consistency
As parts of the story repeat time and again in Palm Springs, Milioti and Samberg acknowledged the challenge of keeping close track of what was happening in every scene. In an interview with CinemaBlend, Milioti said about her character:
I kept copious notes of calibrating exactly where she's at, what has just happened, what doesn't know, what she does – just like scribble everywhere, like Beautiful Mind.
RELATED: Andy Samberg: His Net Worth, and a Look at His Wife and Family
Samberg also kept close track during production, through conversations onset with the director and screenwriter. (Even though they had no definitive timeline for the loop). Samberg acknowledged in the CinemaBlend interview that the three creatives did not always agree on the timeframe.
"In my mind, it has been this amount of time," Samberg said. "And I was like, 'Well for me, it's this amount.' He's like, 'It doesn't matter; just go with whatever.' The point is, it's a long time."
Because of the repetition and necessary attention to detail, Samberg confirmed in an interview with Collider that keeping track of…


Read More: How Did the Cast Keep Track of the Confusing Timeline?