Married at First Sight is back with Season 11 of the hit Lifetime reality show. And while fans are always ready to follow a slew of new couples and their stories, they aren't necessarily done with Season 10 just yet. Fans of the show may be wondering if any of the couples have made it this far from Season 10 — and they might be shocked by the answer.
Only one 'Married at First Sight' couple made it through
RELATED: 'Married at First Sight': Olivia Worries About Brett's 'Playboy' Behavior While Fans Express Reservations About His Dating History
Unfortunately, Married at First Sight didn't exactly hit the nail on the head with its couples on Season 10. Only one couple made it out intact following the wrap of the season — and that same couple might be expanding their family soon. 
Jessica Studer and Austin Hurd were able to make their Season 10 relationship last, so far. The two are still going strong, and are considering taking in a dog. Studer told InTouch, "Austin has been looking for a dog to join our family." She added that they are "starting the process of looking to buy a place." 
When it comes to managing their relationship amid quarantine, the two seem to have a system. "Jess will go for runs outside or read a book in another room while Austin uses the second bedroom as his office and a chance to play computer games and connect with his friends," they told InTouch.
"Austin and I are still learning a lot about each other and, as such, we are learning how to communicate with each other best, how to support each other, and how we manage stress/tasks. We operate on different timelines and schedules, and we are still working through learning that about each other," Studer explained.
Mindy Shiben is still waiting on her divorce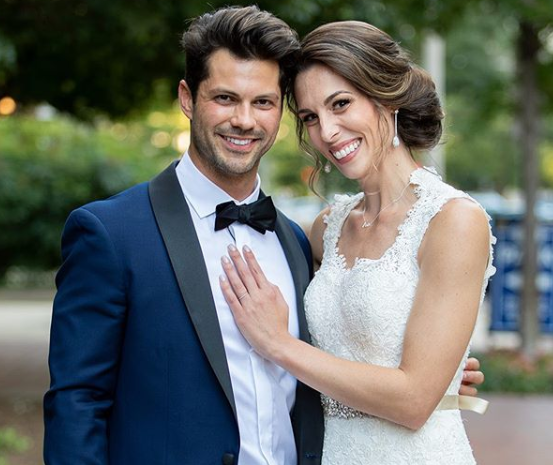 Meanwhile, Married at First Sight star Mindy Shiben is still waiting on her divorce from Zach Justice. The reality couple split when Shiben discovered that Justice had been texting her friend frequently behind her back, seemingly having an emotional affair. 
Mindy Shiben took to her Instagram to rag on Zach Justice. She posted a photo of their wedding, and captioned it, "Hey [Zach Justice]! Will you divorce me? Yes? No? Circle one. #thisgirwantsadivorce #checkyourtexts #crickets."
Justice had snark of his own for Shiben, and wrote back to her, "Lol you've been trying? With what attorney and what papers? Please, don't lie to these people for attention, it's gross. I'm sure you and Kinetic Content will be in the loop." 
He suggested Shiben had been drinking, and added "dontdrinkandgram" to his hashtags. 
This couple split after a bar fight
Taylor Dunklin and Brandon Reid are another Married at First Sight couple that ended explosively. The two were not able to make it work after increasingly volatile…


Read More: Which Lifetime Couples Are Still Together?